Truck for sale in
Faribault, Minnesota
– Category: Flatbed & Rollback Tow Trucks
2012 Dodge 5500
Year: 2012
Make: Dodge
Type: Flatbed
Fuel Type: Diesel
Transmission Type: Automatic
Number of Axles: Single
For Sale By: Dealer
Tire Size: 19″
Suspension Type: Spring
Transmission Speeds: 5 Speed
Model: 5500
Class: Class 8 (33,001 lbs. or more)
Mileage: 103000
Vehicle Title: Salvage
Engine Make: Cummins
Engine Horsepower: 350
Options: Cart Tipper and Winch
Power Options: Air Conditioning
California Prop 65 Warning:
CLICK HERE TO VIEW THE PRICE
MORE DETAILS ON THIS TRUCK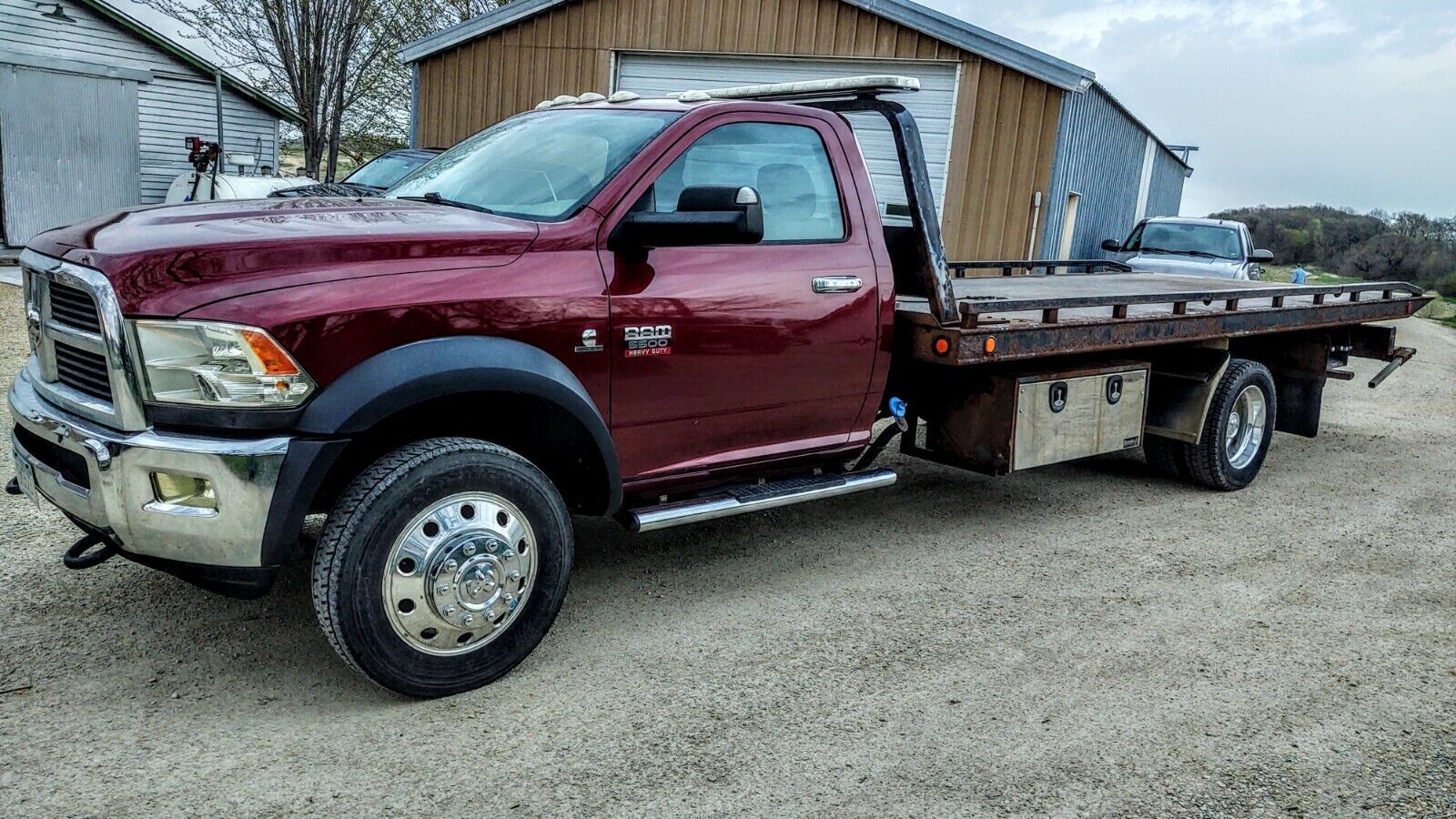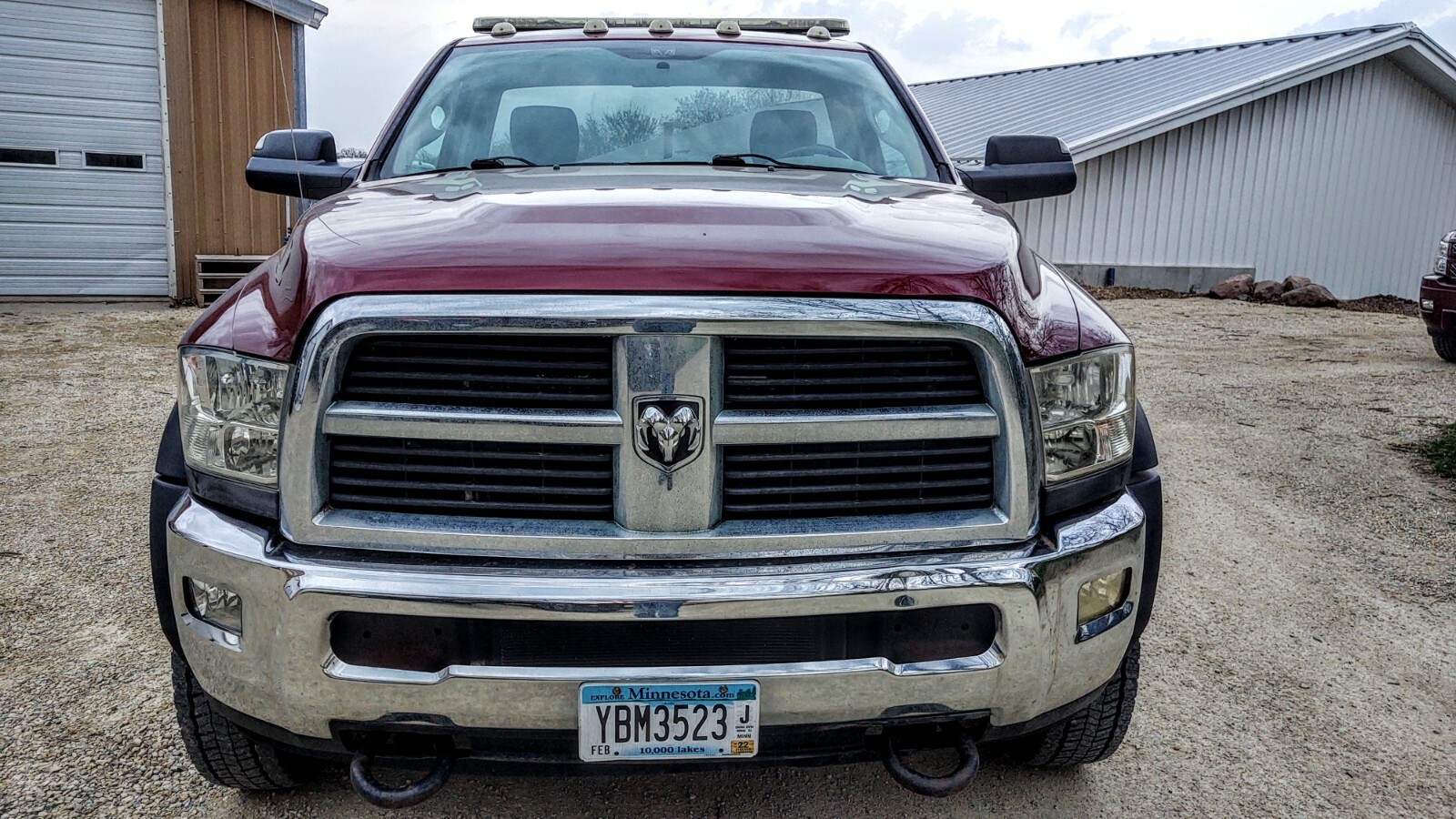 Do you want to see more pictures of this truck? Click Here
Watch Video Video will open in a new window Using the eBay App? Paste link into a browser window: [isdntekvideo] SERIOUS BIDDERS ONLY! Sorry, No Trades and we don't finance but most banks will finance you. We have the title in hand and its ready to sign over to you today. No liens on this car either.Welcome to MNrepairables.com, we are a licensed and insured car dealer in Minnesota.To watch a video walk around and test drive of this vehicle please Copy and Paste the link below or click on the video above: https://youtu.be/WjPzKeIMZ7sNO RESERVE!!!THIS 2012 Dodge Ram 5500 Rollback WILL SELL TO THE HIGH BIDDER REGARDLESS OF PRICE. SO PLEASE MAKE SURE YOU BID BEFORE ITS GONE. This Ram 5500 Rollback came to us from an Insurance company down south. I can't remember exactly what state we bought it from,,,but if I recall correctly it was down in the Mississippi/Arkansas area. We bought this truck with about 40,000 miles on it and it had damage up high to the cab. We found a cab from a 1500 truck (which is the exact same cab, fenders, doors, ect), so we replaced the whole cab rather then to deal with the damage to the pillars around the windshield. There was never any damage to any of the frame, engine, transmission, rear end, cooling, interior, ect. We have owned this truck since about 2014 and have since driven this truck about 63,000miles. The tires are the expensive $500/tire Continentals that are all about 95% life left. The bed is a Century Steel Bed and we have hauled just about everything on this truck from cars, dually crew cabs, skid loaders, ect. It does have the diesel 6.7 engine with auto trans and a locking rear axle for those snow days. Here are the only bad things that i can point out about this truck,,,1. as you can see, there is some surface rust on the side rails of the flat bed among other areas. This should clean up well if you spend some time cleaning it up. The worst rust is the buyers toolbox as that has a small hole rusted in the front of it (i would replaced the toolbox). 2. the driver seat had the outside edge of the seat is worn off. 3. the check engine light has pretty much been on since we bought the truck. The last time we had this truck serviced, they told us it had to do with the DEF system. And when we drive this truck, from time to time it will pop us saying "Service DEF System". But it has never affected the drivability of this truck and its never left us stranded. 4. A couple of the rear flood lights no longer work. I know one of them is broken but i think the others may just need a new bulb. PLEASE WATCH THE VIDEO FOR A FULL WALK AROUNDAfter we rebuilt this truck, we had it inspected by the State of Minnesota and since we used a 1500 cab, we couldn't register this truck as a 1500. So the State of Minnesota removed the 1500 vin from the windshield and reissued a new vin to this truck which is DPSMN131265 (This is the vin that is on the title) but the original vin to the frame, engine, transmission, rear end, ect is 3C7WDMDL8CG326657 and have since issued us a Recondition/Rebuilt Title with no liens. The current miles is just over 103,000 but the miles will change as we are still driving this truck. If you would like to know how this title will transfer in your state, please feel free to contact your local DMV and they will tell you how much all the title transfer fees and sales tax will be. There are no liens against this truck and the title is ready to be signed over to you today. Feel free to drive this truck home or we can also have it shipped to you. Shipping info is down below. If you have any questions, Please feel free to email us though ebay. Otherwise if you prefer to call us, you may call between 10am and 5pm (Central Time) M-F at 507-412-9256. If you are trying to reach us outside of normal business hours or if we happen to miss your call, PLEASE send us an email and someone will respond to you asap. In the event you want to fly in for an inspection or to pick up this vehicle, the nearest airport is MSP Minneapolis, MN (about 35 mins away). Otherwise we are more than happy to set up shipping for you and have this vehicle shipped right to your front door. Shipping info is listed below to give you a good general idea on shipping costs. Att: Minnesota buyers, You will be charged sales tax at a rate of 6.5%, plus plates, tabs, and title transfer fees. You will be provided with a 21 day permit to drive this vehicle right away, and then we will get the plates for you and they will be mailed to you or you can pick this up if you are local. Att: Non-Minnesota buyers, You will NOT be charged any added fees. You will owe the exact amount of your final bid and that's all. You will be given a 31day permit to drive this vehicle home. Shipping, Shipping is at Buyers expense. If you can't come pick this up in person and if you want us to ship it for you, we can set that up for you. Clearly the farther away you are, the more it's going to cost. Average shipping costs are about $200 in Minnesota, $300-500 in upper Midwest, $600-800 to outer Midwest (Texas,Ohio,Montana,Colorado), and coastal areas are about $1,000-$2,000. Depending on where you are, it could take anywhere from 2 to 8 business days before you receive this vehicle. To give you a better idea on the shipping costs, you can usually figure that the rate for shipping a car on an open trailer will be around $0.60-$0.80/mile. or about $0.80-$1.00/mile if you want a car to go inside an enclosed trailer. Of course there are other factors that go into the shipping rates as well. Clearly it would be easier and faster to ship a car to Texas or California as there are alot of transports going in and out of those states everyday. Yet a state like Maine, Hawaii, Alaska will be a bit tougher as they aren't on the main highway going to or from any place.Deposit, After this auction ends, we will need a $500 NON-REFUNDABLE deposit with in 24hrs of the end of this auction. Deposit can be Cash in person only, Pay Pal, Certified Bank Check, or a Bank Wire Transfer.Total Balance Due, Any remaining balance must be paid with in 5 business days of the end of the auction. The balance can ONLY be paid with cash (in person only), wire transfer, or Certified Bank (Checks made out to "MN Motors LLC") if you was the vehicle released asap. If you do pay with a Certified Bank Check (cashiers check), we will hold the title and receipts for 14 days until that check clears and then mail the title and receipts to you. NO PERSONAL CHECKS! In the event you mail us a personal check, we will hold the vehicle, title, and other paperwork until your check clears our bank which can take as long as 2-4 weeks. So it much easier and faster for the both of us to pay with a bank wire transfer, cash in person, or a cashiers check.WE WILL NOT SELL TO SOMEONE OUTSIDE THE UNITED STATES UNLESS YOU CAN PAY AMERICAN CASH IN PERSON WHEN YOU COME TO PICK UP THE CAR.