Truck for sale in
Seattle, Washington
– Category: Emergency & Fire Trucks
1981 Ford E350 Chassis with Braun Body
Year: 1981
Make: Ford
Type: Ambulance
Fuel Type: Gas
Suspension Type: Spring
Tire Size: 22.5
Transmission Type: Automatic
For Sale By: Private Seller
Number of Axles: Single
Transmission Speeds: 5 Speed
Model: E350 Chassis with Braun Body
Class: Class 8 (33,001 lbs. or more)
Mileage: 51000
Vehicle Title: Clean
Engine Make: Ford
Engine Horsepower: 430
Options: Touchdown siren, PA system, Beer tap, Unlimited good times!
Power Options: —
California Prop 65 Warning:
CLICK HERE TO VIEW THE PRICE
MORE DETAILS ON THIS TRUCK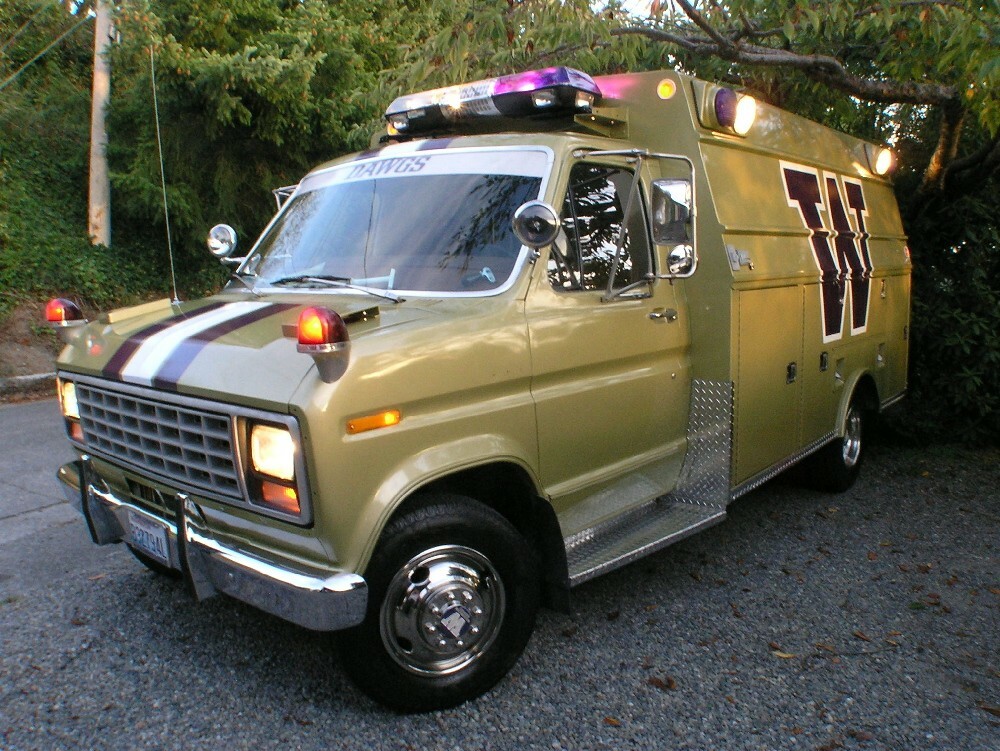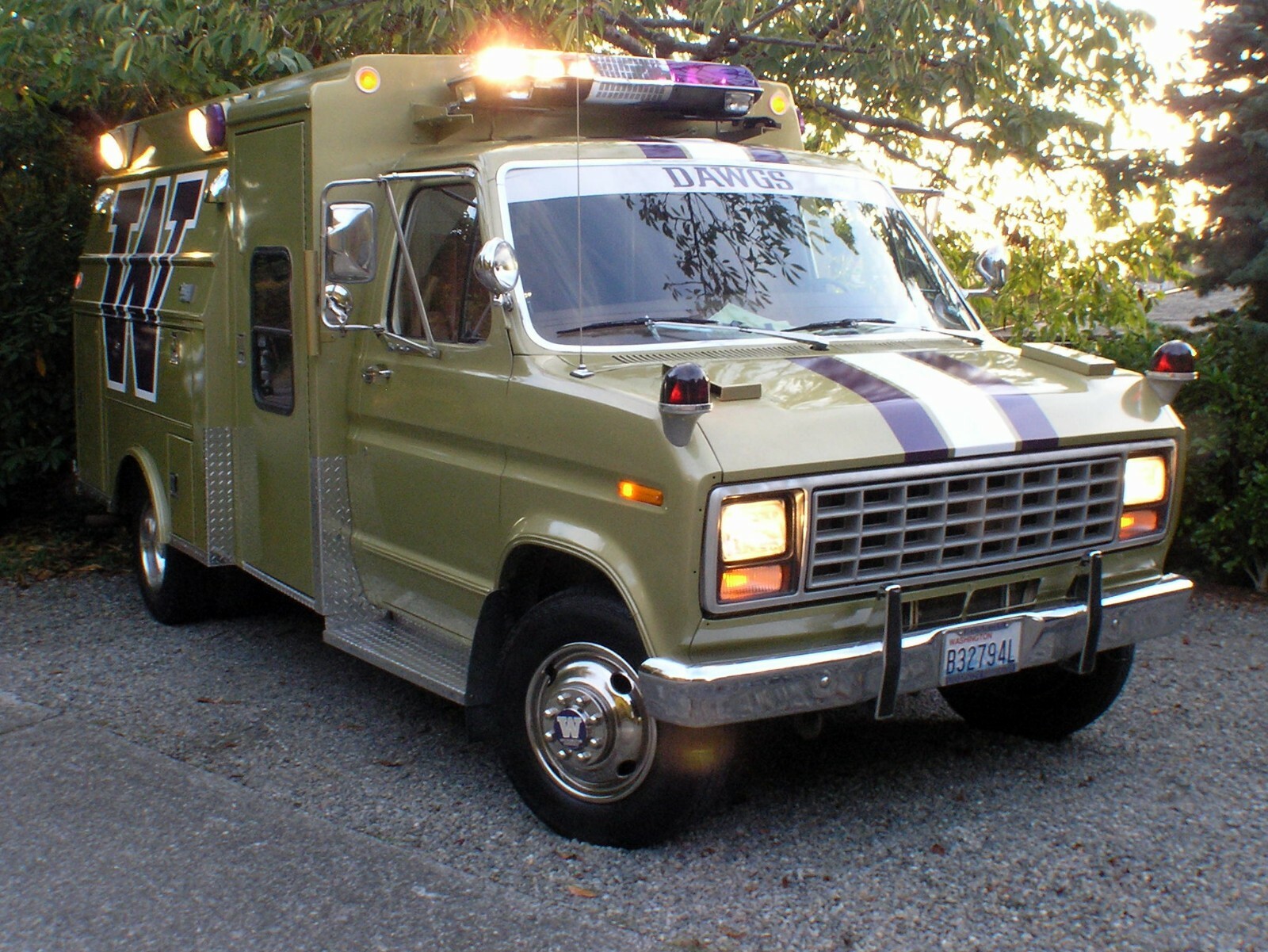 Do you want to see more pictures of this truck? Click Here
The DawgSled – The Ultimate UW Huskies Tailgating Rig First time ever on the market, The Dawg Sled! This is the ultimate UW Husky tailgating rig with everything you need to bring the party to Montlake! Complete with touchdown siren, flashing purple lights, P.A. system, all the compartments you could ever need for your tailgating gear, and even a tap pouring your favorite ice cold beer out of one of the many lockable exterior compartments! This auction will end at 11:30am on Friday, November 26th, the morning of the 2021 Apple Cup. This is a NO RESERVE auction! Somebody will win it! Be sure to check out the embedded video below to get a full 10-minute tour of the DawgSled! Check out the DawgSled! Video will open in a new window Using the eBay App? Paste link into a browser window: https://www.youtube.com/watch?v=ESWZzH4llqM If you are the lucky winner of the auction, you're invited to our Apple Cup tailgate party, where we'll show you the ropes. If you bring the necessary funds, I'll have the title in hand and you can drive the Dawg Sled home! If you'd like to view the DawgSled in person before the auction end, please feel free to contact me. The rig is a 1981 Ford/Braun ambulance. In 2009, it was moved to Seattle from Logansport, Indiana, where it had last served as an aid vehicle for the Cass County Emergency Management Agency. Since transforming into the Dawg Sled for the 2009 season, it hasn't missed a single home Husky football game, whether it was in E1, E12, or even some random spot in SODO during the Husky Stadium renovation. Wherever the Dawg Sled goes, a good time follows! What makes the Dawg Sled the ultimate tailgating rig?1. FREE BEER!!! Local brewers love to have their name and logo in the windshield of the Dawg Sled! We've always managed to find a brewery who is willing to barter a keg per game in exchange for advertising.2. It's painted and stickered like a huge classic gold Husky football helmet! What more could a Dawg Fan want?3. Purple lights, you say? Okay. It has purple flashing lights all around – purple light bar on top of the cab, purple flashing lights on the sides, and purple strobes on the back4. You want a touchdown siren just like inside the stadium? You got it. It comes with an old-fashioned air raid style touchdown siren so you can properly announce your presence in Montlake and celebrate on your way out. You can control the siren with a bluetooth app from your phone.5. Use the Code 3 P.A. system to play the fight song or tell anyone with a Wazzu license plate frame or an O decal in their back window to get out of your way!6. It has seven huge outside compartments – immediate access to everything you need for tailgating. We currently have these set up to hold a generator, a propane tank and heater, directv tuner, four folding chairs and table, tailgating games, portable gas tank, extra cups, plates, napkins, etc.7. We can't tell if the tall/skinny interior compartment was built for a big oxygen bottle or a folded up tailgating tent. It fits both perfectly!8. Speaking of the interior, it has a TV mounted inside on a swinging mount so you can watch other games before heading into the stadium.9. Tons of storage on the inside too – inside the bench seat, inside the cabinets with sliding doors, and lots of floor space to spare.10. Power! It has a shore power plug so you can run a cord from your generator to power the Dawg Sled. It has two exterior and two interior 120v AC outlets. It has a heavy duty power inverter to get AC power even when not plugged in to shore power and to keep those lights flashing without running down the batteries.11. Everybody loves to get their picture with the Dawg Sled, including legends Lawyer Milloy, Lincoln Kennedy, Jake Locker, Mario Bailey, Greg Lewis, and Sonny Sixkiller.12. Possibly the most important alteration is the custom-made insulated jockey box cooler in the bench seat. Hook up your keg line directly to a threaded fitting at the base of the bench seat, where it flows through a 120-foot stainless steel coil sitting in an ice bath. The beer line then directly exits to the passenger side of the rig in the "bar compartment" above the rear wheel, where some appreciative fan will be greeted with ice cold beer straight from the tap. At the end of the day, simply unscrew the plug at the bottom of the built-in cooler and the water drains out to the ground below. Everything you need for the beer system is there minus the keg. We'll even throw in a CO2 bottle.13. A built-in spring-loaded fast food cup dispenser in the bar compartment so your guests aren't ever tempted to drink straight from the tap…unless you're into that sorta thing.14. All sorts of extras that we're including to make this a turn-key operation for you (see the list below) Now for the disclaimers. It is a 40 year-old vehicle, so do not expect perfection. It looks great, runs, pours beer, and is a lot of fun. How many miles does it have on it? The odometer showed 48,746 when I bought it 12 years ago. Now it shows 51,000+. Does that mean 151,000? 251,000? I have no idea. I've had the brakes completely redone, I've replaced the alternator, the power inverter, and just put in a new battery at the beginning of the 2021 season. Pretty sure exhaust manifold has a leak because it's pretty loud and the automatic transmission slips a bit until you get her warmed up. The interior ventilation fan is quite noisy if you turn it on and it's a good thing that football is a fall sport because the vents pretty much just blow hot air. It has two gas tanks, but I've only ever used the front one because I was originally told the rear one leaks. There are other minor things here and there that don't work, but could with a little TLC. It does not leave puddles of oil where you park it because that would just be embarrassing. There are still lots of opportunities for improvement and for you to put your own unique spin on the Dawg Sled. We haven't really done much with the interior, but you could build it out to be something spectacular. You could also put in a great stereo system with exterior speakers. Why are we selling, you ask? We bought and built the Dawg Sled pre-kids when life was simpler and less busy. Things have changed a lot over the last 12 years for us and our group of friends. We've had a lot of fun with it and will be sad to see her go, but it's time to pass it along for someone else to enjoy! Here is a quick list of some of the extras that are included with the Dawg Sled:Full car cover for off-season storageJockey Box setup for draft beer, including 120′ stainless steel coil, CO2 bottle, and CO2 regulatorAir raid style touchdown siren with bluetooth controlCompact Dish TV receiver and satellite dishCode 3 Siren/PA systemPhillips TV and extendable TV mountUW branded cornhole boardsUW folding chairsUW tailgating tentTwo UW collapsible garbage cansUW Husky football postersFog lightsSpare lights and motors for light barExtra lenses for flashing lightsOne-gallon gas can for generator gas20′ flag pole with American and UW Husky flagsExtra flag pole holderBowls, platters, plates, etc.