Truck for sale in
Carbondale, Pennsylvania
– Category: Bucket & Boom Trucks
2008 Ford 7400
Year: 2008
Make: Ford
Fuel Type: Gas
Transmission Type: Automatic
For Sale By: Dealer
Number of Axles: Tandem
Tire Size: 17.5″
Suspension Type: Spring
Model: 7400
Class: Class 8 (33,001 lbs. or more)
Mileage: 50810
Vehicle Title: Clean
Engine Make: 7.6L, L6
Engine Horsepower:
Transmission Speeds:
Options:
Power Options:
California Prop 65 Warning:
CLICK HERE TO VIEW THE PRICE
MORE DETAILS ON THIS TRUCK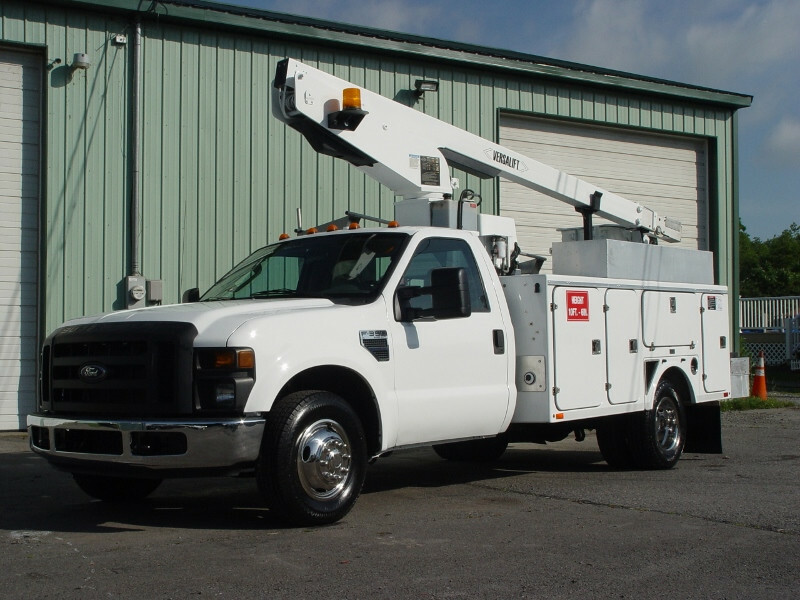 Do you want to see more pictures of this truck? Click Here
Untitled 1Untitled 9KELLOGG BUCKET TRUCKS OVER 40 YRS SERVING NE PA. KELLOGGSALE@ECHOES.NET 570-282-1123 FOR INFORMATION ON THIS TRUCK OR ON ANY OF THE MANY BUCKET TRUCKS WE HAVE FOR SALE ON EBAY. ALL THE TRUCKS PICTURES ARE FOR SALE ON EBAY CALL OR EMAIL WITH QUESTION ALL THE TRUCKS PICTURES ARE FOR SALE ON EBAY CALL OR EMAIL WITH QUESTION LARGEST SELECTION IN N. E. CARBONDALE PA. WE CARRY NOTHING BUT BUCKET, BOOM AND AERIAL AS WELL AS SERVICE TRUCKS AND VANS ALL OUR UNITS ARE FULLY REFURBISHED, SERVICED AND READY TO GO RIGHT TO WORK. WE TAKE PRIDE IN ALL WE SELL!!WE USE ONLY GM PARTS & FULLY SYNTHETIC OIL ONLY 2008 FORD F-350 BUCKET TRUCK 70,832 ORIG. MILES FULLY REFURBISHED GAS ENGINEOUTSTANDING COND. VIN: 1FDWF36578EB34690 "5500 CUMMINS GEN ONAN ORIG. MILES 70.832 COMMERCIAL QG EFi ONLY 69 low hrs. VERY WELL MAINTAINED THE BOOM HAS LOW hrs. VERY LOW!!! 5.4 GAS V8 MOTOR AND IS EXCELLENT SOUNDING QUITE MUST SEE AND DRIVE EXCELLENT 4 WHEEL DISC. BRAKES FRONT AND REAR EXCELLENT2 NEW FRONT TIRES EXCELLENT4 EXCELLENT REAR TIRES 17 inchSHOWN IN PICTURES BELOWALONG WITH NEW S.S.BOLT-ON WHEEL SIMULATORSSHOWN IN PICTURES BELOWWAS JUST FULLY SERVICE WITH FILTER AND FULL SYNTHETIC MOTOR OIL13,000 GVW FULLY SERVICED !!WE PULL EVERY WHEEL OFFTO CHECK BRAKES, CALIBER'S ETC..WE USE ONLY ORIGINAL PARTSEVERY TRUCK IS GONE THROUGH THIS.ALL POWER OUTLETS WORK GREAT!!WE USE ALL FULL SYNTHETIC MOTOR OIL !!!AND GENERATOR COMES IN HANDY FOR ELEC. TOOLS ETC. PAINT IS SO NICE ALL AROUND LOTS OF PIC. GIVE TIME TO LOAD WE STRIVE TO SELL THE BEST USED TRUCKS THAT EBAY HAS TO OFFER, SERVICE AND OTHERS… LOOK HOW STRAIGHT & THE PAINT AND 11ft. BOX IS SO NICE!! ALL AROUND AS SHOWN LOOK!! LIKE NEW …. REALLY NICE BUCKET TRUCK!!! LOOK!! UNDERNEATH SOLID AND CLEAN AS YOU CAN SEE!! WE SHOW WHAT YOU WOULD WANT. LIKE ALMOST NEW.. TRUCK IS IN EXCELLENT SHAPE AS YOU CAN SEE & WE SHOW EVERYTHING NO SURPRISE ON OURS.!!!WE TAKE PRIDE IN OUR UNITS AND OUR FEEDBACK'S SHOWS… THE DOORS ON THIS TRUCK ARE IN EXCELLENT SHAPE AS YOU CAN SEE IN AND OUT OPEN OR CLOSED &DOORS THEY OPEN AND CLOSE SO EASY…NICE AND TIGHT !! HAS NEW FRONT & EXCELLENT REAR 17 TIRES EXCELLENT AS SHOWN AND ALONG WITH NEW WHEEL SIMULATORS.. NEW BOLT ON WHEEL SIMULATORS 17INCH. "STAINLESS STEEL" NEW & NICE!! DON'T GET MUCH BETTER THAN THIS WHEN IT COMES TO BUCKET TRUCK'S BOTTOMS LIKE NEW… EXCELLENT WE ARE FAMILY OWN AND OPERATED AND WE WANT YOU TO BE TREATED AS WE WOULD THIS 2008 FORD F-350 SUPERDUTY BUCKET TRUCK COMES EQUIPPED WITH 5.4 V8 GAS ENGINE.. WE USE ONLY NEW PARTS ALONG WITH SYNTHETIC MOTOR OIL ON ALL OIL AND FILTER CHANGE…. COMES EQUIPPED WITH COLD A/C AUTOMATIC TRANSMISSION INSIDE LIKE NEW COMES WITH AND EMERGENCY KIT IF NEEDED BEHIND THE SEAT COMES WITH 80,416 ORIG. MILES AND COLD A/C /..ALSO LOW MILEAGE. EXCELLENT ALSO AM/FM RADIO…. WE TAKE PRIDE IN OUR UNITS AND OUR FEEDBACKS SHOW THIS FIBERGLASS BOX MAKES THIS BUCKET TK. ONE OF THE NICEST FEATURES AS WELL AS PULL OUT COMPARTMENTS AND SHELVES FOR ALL YOUR WORKING TOOLS AND OTHER ITEMS 11ft. FIBERGLASS BOX LQQK!! GREAT FIBERGLASS BOX WITH LOTS OF ROOM AND GREAT SETUP FOR ALL DIFFERENT ITEMS & TOOLS GREAT LADDER RACK THAT COMES IN HANDY VERY NICE GESTURE…. RIDES SO NICE… NOT LIKE YOUR NORMAL WORK TRUCK BE SIZE GOOD LOOKING… WE ARE FAMILY OWN AND OPERATED AND WE WANT YOU TO BE TREATED THE WHY WE WOULD THE BOX BED HAS SO MUCH ROOM AND MANY PLACE FOR SO MANY ITEMS BIG OR SMALL WE STRIVED TO BE THE BEST EBAY HAS TO OFFER IN BUCKET TRUCK AND SERVICE TRUCKS. WE ARE FAMILY OWN AND WE TAKE PRIDE IN EVERY UNIT WE SELL!! CHECK WITH ANYONE THAT HAS ANY UNIT WE SOLD THEY WILL TELL YOU AS THEY HAVE TOLD US 100% SATISFIED…. OUR TRUCKS ARE READY TO WORK FROM DAY ONE!!! NICE ALL ALUMINUM DECK LID AND FLOORING IN BED…. THE BOOM IS A VERSALIFTMODEL TEL 29N-03 TELESCOPIC WITH A WORKING DISTANCE OF 37FEET WITH A PERSON IN THE BASKET… WITH LOW HOURS ON THE BOOM!! THIS GREAT WORKING BOOM IS POWERED BY 5500 CUMMINS ONAN COMMERCIAL QG EFi. WITH LOW HRS. WE HAVE A FULL TRUCK REPORT FROM EXPERIAN AUTO IF YOU WANT….ALSO ALL THE BOOKS COME WITH TRUCK SEEN AT THE BOTTOM.. WE ARE FAMILY OWN AND OPERATED AND WE TAKE PRIDE IN ALL REFURBISHED UNITS WE SELL… THE BOOM IS SELF-LEVELING AND HAS A SAFE OVER-RIDE SWITCH IN CASE OF EMERGENCY AND EASY LOADING FROM THE REAR AND GROUND IN BUCKET WE SELL ONLY SUPER NICE BUCKET TRUCKS AND SERVICE TRUCKS AND ARE FULLY READY TO WORK ON DAY 1 . LOOK AT THE INTERIOR FRONT SEATS FULLY REUPHOLSTERED AND FLOORING ORIGINAL SUPER CLEAN LOOK!! EXCELLENT .. THE SUPER NICE LOOKING AND ALL ORIGINAL FLOORING… HEADLINER NEXT TO NEW!! COMES AS SHOWN ABOVE AND ALL POWER OUTLETS WORK AS THEY SHOULD….THE PICTURES SAY IT ALL A VERY NICE AND WELL MAINTAIN UNIT THIS 2008 FORD F-350 IS AS SEEN ABOVE ONE SUPER NICE TRUCK!! IN OUTSTANDING CONDITION PLEASE TAKE THE TIME OUR FEEDBACKS SHOWS WE SELL SOME OF THE BEST EBAY HAS TO OFFER THE PICTURES SAY IT ALL If These Aren't Enough Just Ask And Will Send More Pictures Of This Fine Unit Just Email… SEL.# 1FDWF36578EB34690 Detailed Question Free To Call 570-282-1123 WE CAN DO ALL PAPER WORK AND TAGS AND TITLE AS NEEDED. ON THIS UNIT ANY QUESTION PLEASE FEEL FREE TO EMAIL US AT KELLOGGSALE@ECHOES.NET OR CALL USAT AREA CODE 570-282-1123 IF YOU NEED HELP WITH FINANCING CALL NORTHERN ATLANTIC FINANCIAL. LLC JoAnn Cucciarre 800-710-4361/215-721-6945ALSO CAPITAL FINANCING CALL CAT BROOM AT 603-501-1016 OR EMAIL AT CMBROOM@DIRECTCAPITAL.COM 2nd. ONE : ACG EQUIPMENT FINANCE LLC CALL SCOTT HIRZ 440-360-7275 SCOTTHIRZ@1ACG.COM SHIPPING CALL M&K TRANSPORT SYSTEMS INC. PH. 352-433-2175 / 352-433-2176 Non-refundable Deposit of 200.00 will be due 24 hours after end of auction. Balance due 7 days after end of auction.